Check out our awesome deals!
We are always updating our specials, so check back often or you might miss them!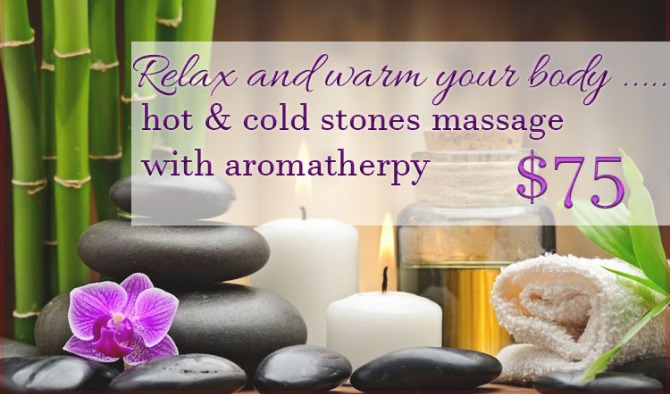 Aromatherapy Hot Stone Massage gives you a deep feeling of total rejuvenation.
The hot stones are placed on strategic reflex points of the spine, feet, hands, and face to open energy pathways. By using hot stones, your treatment has been calculated to be five time deeper and last five times longer than with hands alone.
Therapeutic essential oils are blended to your specific needs and applied to release anxiety and tension while enhancing circulation, digestion, and lymphatic drainage.
Your entire body will feel restored, balanced, and replenished.
With the use of essential oils, which is the distilled essence of a plant, we use the aromatic properties for holistic healing. The use of aromatherapy has been proven to promote psychological or physical well-being, as well as improving the health of the body, mind, and spirit. Call today and add it to your manicure/pedicure or massage! ($5 per service)